Cebu Sinulog shines at NYTimes Travel Show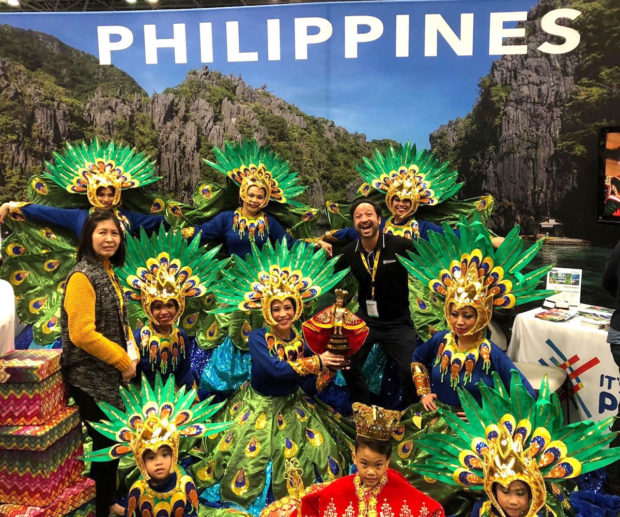 NEW YORK — With 175 countries represented by some 700 exhibitors, the largest exhibition of travel and tourism, the annual New York Times Travel Show recently concluded.
More than 35,000 visitors enjoyed a sampling of the tastes, sights and sounds offered by various countries and cultures at the Jacob Javits Convention Center in Manhattan. Travel seminars and panel discussions were offered for three full days with topics ranging from cruising, blogging and photography
The Philippines was represented by the Department of Tourism office at New York and the Philippine Consulate General. Members of Philippine Airlines and Shangrila Hotel assisted in promoting destinations such as Cebu, Iloilo, Boracay, Siargao and Palawan islands.
Sinulog dancers in full costume from the group Cebuanos Engaging in Building Unity, Inc. (CEBU) were invited by the Consulate to perform on stage to the delight of the visitors during the public show on Sunday, 26 January 2020.
Tourism Attaché Francisco Lardizabal promoted the 2020 VIP Tour during the event. Formerly dubbed as Ambassadors Tour, the VIP (Very Important Pinoy) Tour that kicks off July 19-25, 2020 includes a tour of Iloilo and the newly-reopened Boracay at a packaged price of $2,395 per person, for twin sharing, inclusive of hotels and international and domestic airfare by Philippine Airlines. See a video snapshot of the exhibit with PDOTNY Director Francisco Lardizabal talking about the tour: http://www.youtube.com/watch?v=lPUgSDZYfV0
Philippine Airlines offered a special fare of only $670 direct flight from New York to Manila, cutting the time to 16 hours or less. Flights are offered daily. The new premium economy is now going for $1,420 while Business class is on sale at $2,720 from New York. The sale ends soon. Marriott Hotel is hosting the VIP tour for 2 days in Manila and 2 days at Iloilo.
Spotted as a newcomer in this year's NYTimes Travel Show is Newfoundland. A familiar spot on the map when the plane takes off from JFK en route to Manila, Newfoundland is part of Canada, offering camping sites, snow mobiles, ski sports and country lodging. Also making a strong presence during the show is the show's co-sponsor, Nepal.
A separate presentation was offered on Monday after the travel show, featuring world famous Mount Everest, establishing Nepal as sky diving mecca, and the world's highest ice skating and ice hockey match in 2020.  It boasts a diverse culture and exotic geographic terrain consisting of Himal, Pahad and Terrai, that is, from a high altitude cool mountain to a warm terai. Volunteer tourism is also offered through Himalayan Light Foundation Solar Sisters Program and Doctors Without Borders.