Crowd packs Amatorio's historic swearing-in as Mayor of Bergenfield, New Jersey
BERGENFIELD, New Jersey — Filipino community members and various elected officials from surrounding municipalities on Sunday, January 5 packed Bergenfield Borough Hall Council Chambers the swearing-in ceremony of Mayor Arvin Amatorio, a naturalized Filipino American.
Amatorio is the second New Jersey Mayor of Filipino ancestry after Robert Rivas. State Senator Joe Lagana swore him in. "Today is a historic day for not only me but the entire Bergenfield community, who welcomed me and my wife about 13 years ago," Amatorio said.
Also sworn in were Council Members Ora Kornbluth and Salvador "Buddy" Deauna, part of Amatorio's slate, who were elected last November. Kornbluth is on her fourth Council term while Deauna is on his second.
To start his term Amatorio left his Council seat, and the Council unanimously named local businessman Marc Pascual to serve Amatorio's remaining one year on the council.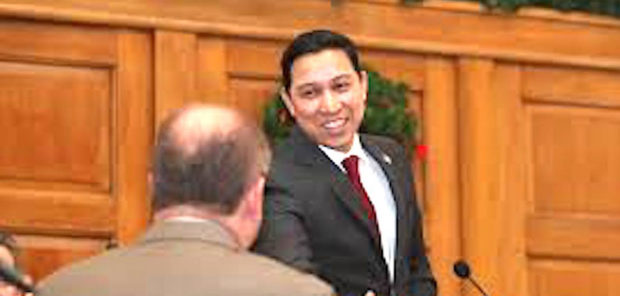 "I am so honored to be your Mayor, and want to thank you all for being here on this historic day," said Amatorio. "During our campaign, I met with over 10,000 residents directly at their doors, and appreciate them sharing their vision for a better Bergenfield with me. I pledge to always work in the best interests of residents, and all my efforts will be shaped by feedback from the public."
He said further: "The Filipino community is rejoicing and I am genuinely proud of my heritage but I am here to serve all residents, from all communities. In my first 100 days as Mayor, I will work with the DPW, my colleagues in the council, and of course residents to identify which roads require an immediate repair and construct a plan to make sure we address these issues because Bergenfield residents deserve to feel safe in our neighborhoods. We are also going to begin plans to construct a new Borough Hall, that is energy-efficient and will better serve residents for at least 100 years. Bergenfield will improve its parks, sports facilities and will streamline our sports and recreation program as part of my plan to invest in our youth."
Following the swearing-in ceremony, Amatorio nominated, and the Council approved, Franklin S. Montero as Municipal Court Judge, making him Bergenfield's first Latino judge.