Quiapo book signing, Kansas Simbang Gabi, X'mas Sama-Sama
Book Signing and Multimedia Presentation: QUIAPO. Blood, Sweat, Hope, and Rodallie S. Mosende's Story 
Rick Rocamora, Rene Ciria-Cruz, Dan Amosin. [WPP Publications, 2016]
"The real story of Quiapo is not about crime and filth. Those in the know see Quiapo in a different light: as a haven for strong-hearted, hardworking individuals tenaciously trying to overcome life's obstacles for their dreams." —Rick Rocamora, Award-winning documentary photographer.
"Rick Rocamora's work has always exemplified the very best of what documentary photography can and should be. He commits to his subjects over a long period of time. He brings a warm heart and good intentions to his purpose and his gentle, yet attentive eye often captures moments that both reveal and touch. His new book, QUIAPO, embodies the best qualities of what Mr. Rocamora does, with the additional commitment to a single individual, whose life was profoundly changed by the focus of Rick's camera on her life." —Ed Kashi, Award-winning documentary photographer, lecturer, author, and member of VII Photo Agency.
Monday, December 19, 2016, 6:15 PM to 7:45 PM
Social Hall, 5th Floor, The Philippine Center
447 Sutter, San Francisco, CA
Doors open at 5:30 PM
Free Admission
Sponsored by Philippine American Writers and Artists, Inc. (PAWA),
The Filipino American International Book Festival, Philippine Consulate General in San Francisco.
For more details visit FilBookFestival page: http://filbookfestival.org/page2/
Faecebook Page: https://www.facebook.com/events/215279202257696https://www.facebook.com/events/215279202257696/

•••
Christmas Sama-Sama
Come join us for a joyful event to celebrate the birthday of our Lord Jesus Christ. With many different churches around the DFW area, we will celebrate with music and fellowship with all of our brothers and sisters of Christ.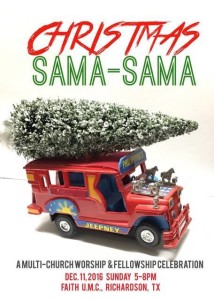 Simbang Gabi
Thursday, December 15, 2016 through Friday, December 23, 2016
Filipino Cultural Center – MAP
Mary's Children, a lay group of the Society of our Lady of the Most Holy Trinity (SOLT), invites you to the Filipino Catholic tradition of Simbang Gabi, a 9-day Mass (novena) in preparation for Christmas. Literally translating to "Mass at Dawn," Masses have often been held as early as 3 or 4 a.m. While the time has changed here in the States, the devotion and intentions have remained constant.
Schedule of Masses
7 PM – December 15-16
6 PM – December 17-18
7 PM – December 19-22
6 PM – December 23
Note: There will be confessions 1 hour before Mass on December 18 and 22.
Contact: Cory Sorio
[email protected] / 816-695-8774
*This event is not affiliated with the Filipino Association of Greater Kansas City.
•••
New Year's Eve Party
Saturday, December 31, 2016
TBD
Come one, come all…we're popping the corks and having a ball! So come join us and don't be tardy – or you'll miss a fabulous party! Let's say goodbye to 2016 and say hello to 2017 at a New Year's Eve bash. More info to follow.
Contact: Marjorie Doronio
[email protected] / 913-980-3073