Best Hairstyles for Men In 2019
Hair is a very versatile accessory. Some opt to grow it out while others don't. For men, it's usually the latter.
However, some decided to keep their tresses, if that's you then this is it… The only article you'll ever need for men's hair. All the trends, styles and best looks. Whether you need classy or casual Best Hairstyles for Men 2019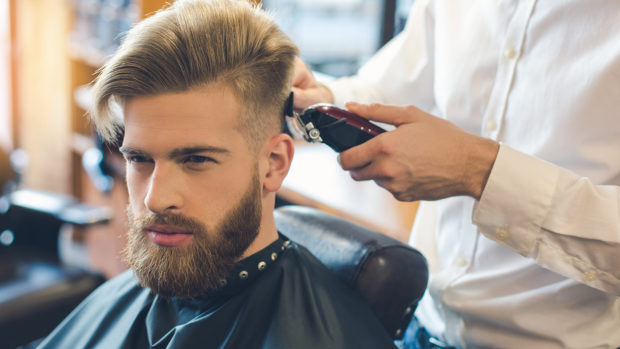 Long Hairstyles For Men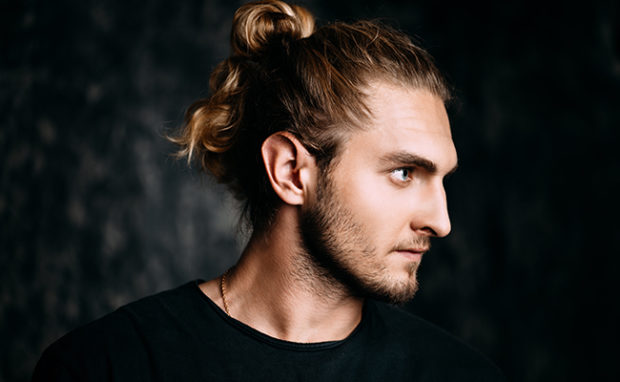 For a man, hair is considered long once it's past 6 inches in length. If you've grown yourself some long hair, you're not alone, Thor and Aquaman have long hair too. Though their hair is mainly in a messy slick back style, that doesn't mean yours has to be. The following hairstyles will have you looking sharp and trendy.
The Ponytail
This simple style can be done in under 5 minutes with little to no effort. It can be worn messy or neat depending on your preference.
Steps to achieve this style-
Comb and brush hair back
Secure hair in hand and position at the desired height
Pull through the elastic hair tie
Leave the back out
The Man Bun
Many thought this hairstyle was silly but it seems like it's here to stay. This hairstyle is versatile and can be rocked by straight and curly-haired guys alike.
Steps to achieve this style-
Comb and brush hair back
Bunch up into a high one
Secure hair in an elastic hair tie creating a high ponytail
Bend ponytail in half and twist the same hair tie around the newly created man bun.
Half up Half down
This style another is simple to create yet it still looks elegant. So it will have you looking top of the line in no time.
Steps to achieve this style-
Using a comb or your fingers path hair from ear to ear. The path doesn't need to be straight.
Take the top half, brush and pull through a hair tie in a high and tight one.
Leave the bottom half out and brushed down.
If desired make the top half into a man bun.
Medium Hairstyles for Men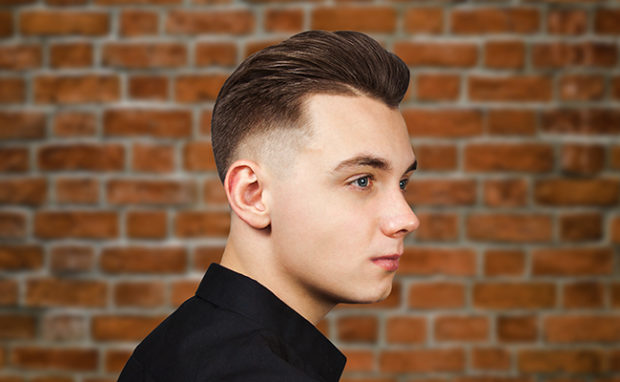 Hair is considered medium length once it's between 2-6 inches. This can sometimes be an awkward stage as not all hair lengths will be able to go into a hair tie with ease. However, there are other trendy medium length styles that you don't need a hair tie for.
Classic Slick Back
This style is not only for longer hair types. Medium length hair can reap the benefits of this style as well. All you need is some good hair products and a comb.
Steps to achieve this style-
Apply gel-like substance to the hair
Comb hair back and down
If desired add a side part to hair and create a more versatile look
The Faux Hawk (Fohawk)
It's a style similar to the mohawk, but it offers more stylish options. It's a popular fade haircut that's trendy and edgy.
It's more professional and acceptable than a mohawk in a formal setting. Ultimately giving you a cool and intriguing yet modern hairstyle.
Steps to achieve this hairstyle-
Have a taper fade haircut from a barber (this it the top part of hair being left while the sides are cut off)
Apply styling hair product to hair and smooth hair upwards creating a mohawk look
The Pompadour
There are many different variations to this style for men, women, and children. Its name after Madame de Pompadour, a mistress of King Louis XV. It's basically styling the hair away from your face.
Steps to achieve this hairstyle-
Have the hair cut in a taper fade or mid fade style.
Apply styling product and comb hair upwards and away from the face
This is worn high over the forehead in an upsweep.
Short Hairstyles for Men
If you prefer your short hair, meaning anything under 2 inches in length. Well, you're in luck because here are some men's hairstyles to epitomize your masculinity. There are some fashionable and easily maintained short haircuts for any occasion.
The Bald Fade Haircut
This hairstyle gives you some time between barbershop haircuts depending on how low you cut it. It can range from a low skin fade cut to a medium to high fade cut. It has recently become a trend for men. This haircut is pretty versatile and takes a lot of precision so its best to leave it to a barber.
Different haircuts and hairstyles that can be achieved using a bald fade haircut. It can be incorporated with other styles from short, medium and long hairstyles. Such as bald fade faux hawk, slicked back bald fade, bald fade buzz cut and many more.
The Crew Cut
This is a very short haircut for men. The strands on the top of the head are cut so that they can face an upright position. It's stylish but practical and also low maintenance. These are classic hairstyles that have been popular for decades.
This cut is also best left to a professional cause cutting a crew's cut is a craft. Hairstyles incorporated with the crew's cut are as follows: fresh-cut waves, surgical line, classic crew cut and many more.
The Ivy League
A classic haircut with the combination of a side part. This haircut is also known as a Harvard Clip or Princeton haircut. The ivy league hairstyle is achieved starting with a short trim to the sides but leaves the front hair slightly longer, long enough to comb.
This hairstyle makes you look very clean, polished, sharp and professional all in one. It's more seen in college guys but can definitely work for working men. The slightly longer top allows you to just brush back your beautiful hair.
SUMMARY
Best Hairstyles for Men 2019, knowing how to style and cut it is an essential part of looking and feeling your best. So whatever your hair length maybe, it's my hope that all these sharp and polished hairstyles and haircuts help you to improve your personal style.