The 2019 Best Women's Volleyball Shoes
THE BEST WOMEN'S VOLLEYBALL SHOES
The following shoes are the best that offer these requirements. From Nike volleyball shoes to Adidas originals, we have listed out the choicest picks for women players. Nike women's volleyball shoes take the top spot, read on to find out if it's worth the position.
TOP FEATURES
Excellent Traction
Synthetic And Mesh Upper
Phylon Midsole
Flywire 3.0 Support System
Nike is a globally prominent brand that continues to stand out in the sports gear industry. A top product from the array of Nike volleyball shoes is the Nike Volley Zoom Hyperspike. These shoes should take your volleyball game to the next level as they are among the top rated women's volleyball shoes.
This pair of Nike womens volleyball shoes comes with Phylon midsole, excellent midsole technology as well as synthetic and mesh uppers. This Nike volleyball shoe sets the standard for what might be the ideal skilled volley gamer shoe. It's a perfect choice for the player that is consistently off the ground while playing because of how excellently shock-absorbent it is.
The Volley Zoom Hyperspike is also impressively lightweight thanks to Nike's flywire 3.0 technology . Basically, the Nike Hyperspike lets you spike and jump without the pause that comes with weighty shoes.
On the court, good grip connection between the floor and outsole is necessary for correct volley gaming. The Nike Hyperspike ensures that every single contact made between floor and sole comes with a sturdy grip, due to the lightweight supporting rubber.
As the major and well-seasoned sports brand Nike is, they produced a sports shoe that is both excellent in quality and highly comfortable. This product may be expensive to most buyers because of all the extras it comes with. Still, if its quality you desire, this Nike Volleyball shoe is your best bet.
TOP FEATURES
SPRINTSKIN™ Upper
Boost™ Cushioning
Non-Marking Outsole
Molded Sockliner
ADITUFF™ Technology
Adidas Volleyball Shoes: These shoes are court-made and seasonally made as well. They are packed with features such as boost™ and ADITUFF™ technologies, a SPRINTSKIN™ upper, a PU sockliner, and a non-marking outsole. The shoes come with a design that helps in toe-offs and aids softer impacts related with landings. They are visually appealing which means you can look great and feel great while sporting these Adidas Originals Crazyflight.
Boost™ Cushioning is located at the helm of the shoes. It is a smart feature as the amount of load that goes to your knee area when jumping (and constant jumping which is par for the course with volleyball.) The support these shoes offer make them a perfect choice for players of the sport.
It is expected from athletes that they don't wear shoes that cause marks and scarring on the court floor. The Crazyflight's non-marking outsole aids you in guarding the floor's beauty effortlessly. The court floor is your stage, its only right you preserve it from scarring.
With the array of technologies and top-notch materials offered in this volley shoe, they are worth the price and a great buy. They are also a great option if you don't fancy Nike's women's volleyball shoes.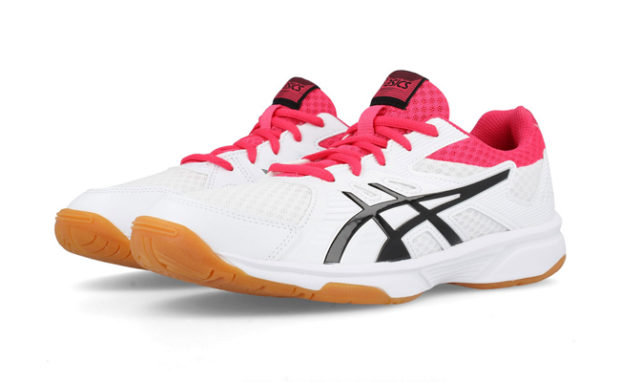 TOP FEATURES
Outstanding Shock Absorption
Non-Marking Outsole
Rearfoot GEL Cushioning
Breathable Synthetic And Mesh Upper
The Asics Gel roster is well loved by volleyball players and it deserves to be.
The Gel Upcourt 3 offers a sturdy gel padding system, a breathable mesh and synthetic upper, and a non-slip outsole that can make or mar your sportsmanship on the volleyball court.
For appropriate volleyball footwear, gum rubber outsoles are incredibly necessary as they let you move in the unfettered way the sport requires. The Asics Gel Upcourt 3 outsole is non-slip gum rubber, non-marking, guaranteeing great traction that leaves no marks on the court floor.
These shoes are also equipped with Rearfoot GEL Cushioning System exclusive to the Asics Gel line. This support system lets the shoes effectively decrease stress on your legs and feet as well as absorb shock, both of which are needed for a maximum energy sport like volleyball. The cushion also aids in shaping the contours of your feet, ensuring comfort through the game duration and even afterward.
The Gel Upcourt 3 is budget friendly and tailored for volleyball which makes the shoe a good buy as well as its added features.
The only downside to this shoe is it offers minimal arch support.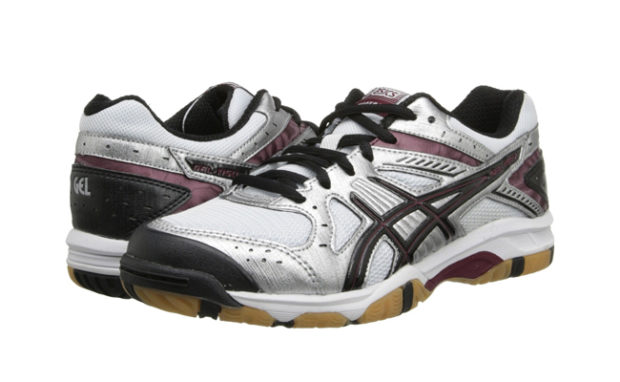 TOP FEATURES
Rubber Outsole
Synthetic/Mesh Upper
Lace Entry
Padded Collar
These court-tailored shoes are crafted with a 2.8-inch shaft height, a mesh upper, rubber outsole, padded collar, lace entry and come with synthetic overlays. They offer reasonable grip on the court floor, letting you move from one spot to the next with positively no difficulty. If you have wide feet, these shoes would be perfect as it has a wide toe box; which gives room for adequate splay when positioning your body for your next move.
Synthetic mesh upper/overlays give sturdiness and padding as you play, walk and jump. The mesh overlay lets your feet breathe and aids the general health of your feet as well.
These volleyball shoes are an awesome addition to your footwear collection and are priced reasonably. However, their wide toe box may pose a problem for those with narrow feet.
Related Articles
TOP FEATURES
Trusstic System Technology
Breathable Open Mesh Design
Synthetic Upper
Smooth Crafting
Rubber Outsole
Asics Volleyball Shoes: An excellent choice if you're searching for shoes that help lower impact landings and have supportive toe-offs. The Asics Gel-Tactic 2 come with Trusstic System technology. They have breathable mesh uppers that assist in proper airflow and aid general foot welfare. Supportive synthetic overlays on the upper give sturdiness, allowing you move effortlessly while maintain a solid stance. Furthermore, the rubber outsole enhances its grip and the smooth crafting of the shoe is another plus.
The Asics Gel-Tactic 2 uppers are made of large underlying mesh with synthetic overlays to ensure the best of feet-in-shoe ventilation while maintain its sturdiness.
These volleyball shoes are budget friendly for majority of buyers. They are a great choice for players who need good feet airflow while playing. In addition, they are court ready and a superb addition to any volleyballer's shoe stack.
TOP FEATURES
INTERCOOL Ventilation System
SENSORPOINT Technology
SR Touch Midsole
Synthetic Upper
Breathable Air Mesh
Mizuno Volleyball Shoes: Made to move in smooth sync with your feet, these shoes use DynaMotion Fit technology. They also feature an AIRmesh technology that assists in giving your feet more comfort and enhances its general health. The Mizuno Wave Lightning Z4 offers both traction and sturdiness, a fusion of volleyball shoe excellence.
The SENSORPOINT Technology that this shoe features is a great help in providing solid footing and traction. This tech is a sort of suspension construct that guarantees smooth shifting from point to point and stance to stance.
This volleyball shoe also has The SR Touch Technology, making it an excellent shock absorber in case of impact landings. This feature also provides fundamental comfort for the player as they jump, move and score around the court.
The Mizuno Wave Lightning Z4 is a great buy and a worthy addition to any player's footwear collection. They are high functioning and comfortable but they don't come in a wide variety of colours. Other than that one downside, they are excellent volleyball shoes.
TOP FEATURES
INTERCOOL Ventilation System
Lightweight SR Touch Midsole
Non-Marking Outsole
Breathable Mesh Outer
The Wave Bolt 7 by Mizuno offers the durability, shock absorption and excellent breathability the brand is recognized for. Its non-marking outsole is also a great addition.
Mizuno's exclusive INTERCOOL Ventilation system operates hand in hand with the mesh upper to keep heat at a minimum within the shoes. The system maintains needed airflow and keeps your feet dry regardless of how vigorous you play. It also minimises the occurrence of odour.
The lightweight SR Touch Midsole is created from a patent material that is incredibly shock absorbent and also decreases the strain on your feet and legs. This is necessary because of the terrible effect leg-foot stress would have on your game. The lightweight feature of the midsole also guarantees ease of movement that lets you play on the court without restrictions.
The Wave Bolt 7 is quite pricey. This is expected due to how loaded it is with helpful features, as well as its comfort, long-lasting quality, and breathability.
Its only problem is it has a stiff insole. Besides that, this volleyball shoe is an excellent choice for those who are ready to spend extra on a quality durable product.