Bataan Death March, Battle of Leyte Gulf remembrance, April 6
WATCH: 2018 Commemoration of Bataaan Death March. YOUTUBE
SAN FRANCISCO — Commemorations of the 77th anniversary of the Bataan Death March and the 75th anniversary of the Battle of Leyte Gulf will take place in San Bruno, California, hosted by the Bataan Legacy Historical Society (BLHS) and the Golden Gate National Cemetery (GGNC).
The event will take place at 10 a.m. on Saturday, April 6 at the Golden Gate National Cemetery located at 1300 Sneath Lane, San Bruno, California.
The 84th Training Command, the 191st U.S. Army Band, JROTC cadets from several Bay Area high schools and veterans will participate in the event. Master of Ceremonies will be Maj. General (Ret.) Eldon Regua.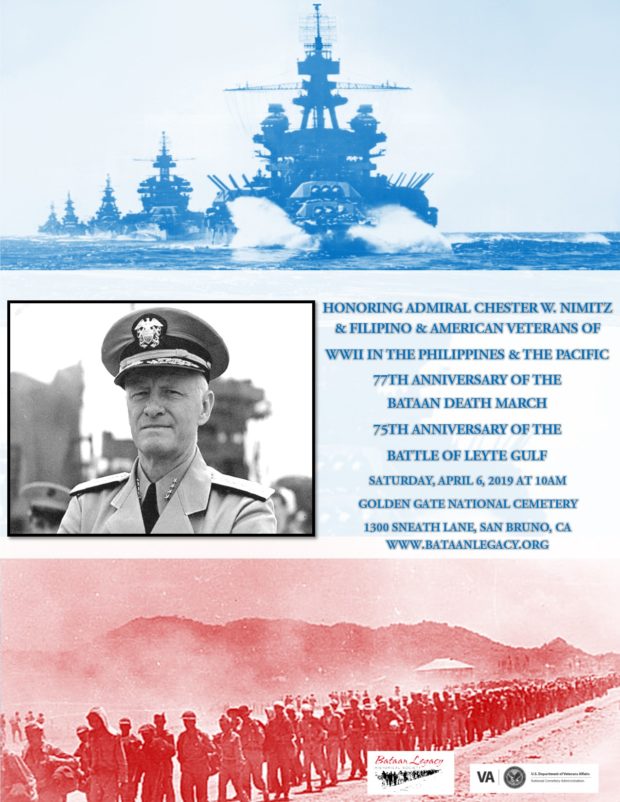 Among the most notable WWII veterans buried at GGNC are Admiral Chester Nimitz, Commander In Chief of the U.S. Pacific Fleet; Admiral Raymond Spruance; Admiral Richmond Kelly Turner; Maj. General Albert Jones; Maj. General George Moore; and Vice Admiral Charles Andrews.
Bataan Legacy Historical Society (BLHS) worked successfully with the California Department of Education to include WWII in the Philippines in the Grade 11 history curriculum framework which was approved by the California State Board of Education on July 14, 2016.
BLHS is now in the process of helping to implement the curriculum framework by working with California high school history teachers to create sample lesson plans in accordance with the California Common Core Standards.
These lesson plans are now available for free through the BLHS website, including primary documents.
Since 2015, BLHS has held conferences on WWII in the Philippines in San Francisco. This year, the theme is "The Liberation of the Philippines — The Steep Price of Freedom." The conference will take place on Saturday, Sept. 28 at the University of San Francisco. The Leyte Landing, the Battle of Leyte Gulf, the Role of the Guerrillas and War Crimes are the main topics of the conference.
Subscribe to INQUIRER PLUS to get access to The Philippine Daily Inquirer & other 70+ titles, share up to 5 gadgets, listen to the news, download as early as 4am & share articles on social media. Call 896 6000.