Elected, appointed Fil-Am officials toast their collective success
SAN FRANCISCO — In the age of trolls and haters, affirmation alone reigned on two recent landmark hours.
Filipinos and Americans, two identities in one. Born in the Philippines, the United States and elsewhere.  Baby Boomers, Gen X'ers, Millennials.  Democrat, Republican, Green and Independent. Liberal and conservative, progressive or centrist: Over a hundred of them assembled Jan. 31 at a Google outpost in San Francisco for the exact same reasons — to toast each other, celebrate their Filipino heritage, cheer their collective victory in the recent midterm elections, and work together to multiply their ranks.
This gathering was like no other as it welcomed United States Representative TJ Cox, the first Filipino American elected to represent California in the U.S. Congress. Bay Area-born Cox, the third son of the former Perla de Castro (now Davis) and Kenneth Cox, joins California Assembly Member Rob Bonta as the two Golden State FilAms to smash racial barriers in the halls of higher political power.
Cox defeated a three-term incumbent in a cliff-hanger lasting almost a month for the 21st congressional district encompassing the lush farmlands of San Joaquin Valley.
Bonta, who was born in the Philippines to Warren Bonta and the former Cynthia Arnaldo, once again topped his fourth bid to keep his seat in the 18th District of the Assembly covering Oakland, Alameda and San Leandro.
Freshman Congress member Cox has already hit the ground running, having been appointed chair of the oversight and investigations subcommittee, previously occupied by more seasoned legislators.
His motivation for seeking public office, he said, is to give constituents a fair share of the state's and the nation's bounty.  His smile widened when he pointed to his role model sitting proudly listening to his valedictory — his mother, who sheltered African American members of the U.S. Armed Forces defending the Philippines in World War II.  That courage and sense of duty flow inherently in her son, the engineer, who said his own daughter also shares their passion for social justice.
Bonta's warrior genes are well known, having activist parents who fought alongside legendary organizers Phillip Vera Cruz and Larry Itliong to unionize farm workers in the 1960s.
Having strong women for mothers, Cox and Bonta unsurprisingly emphasized who were missing from their offices, urging their predominantly female audience to double-down on their aspirations and grab their own seats in the California and U.S. Legislatures.
The stark absence of Filipina Americans in Sacramento and Washington, DC and a new bill may incentivize those looking to call Bonta or Cox their peers.
Among Assembly Assistant Majority Leader Bonta's proposed legislations for 2019. one speaks directly to the event's objectives. AB 220 would allow use of campaign funds for child care for women running for office thereby "promoting gender parity among elected office holders."
"Parents of young children bring an important perspective to policy-making and should be encouraged to enter the political arena and serve," said Bonta. "Our campaign laws should support candidates with young children and reflect our California values of inclusion, equity and opportunity."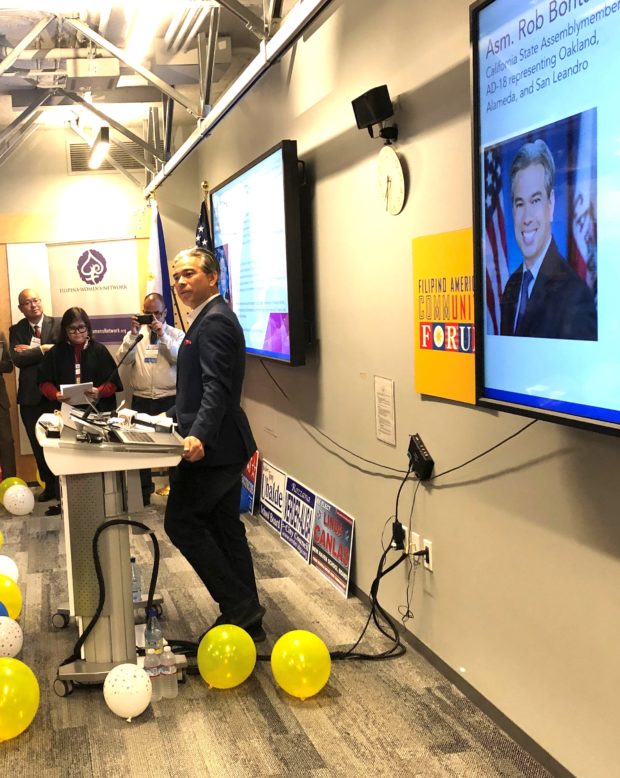 Cox and Bonta's common message is that a winning campaign requires everyone to show up, get involved, learn the process, contribute and vote.
Show up they did, including newly elected Artesia Council Member Melissa Ramoso and re-elected Sierra Madre Council Member Rachel Pastor Arizmendi, who flew in from Southern California.  They were among 9 fresh and 15 re-elected Fil-Ams trading congratulations and digits at the reception hosted by the Filipino American Community Forum, the political engagement program led by longtime collaborators Marily Mondejar and Al Perez.
"I was born here, but our birthplace does not matter because we are all Filipinos and Americans," Arizmendi enunciated in the third event keynote representing local officials.
Mondejar, founder and CEO of the worldwide Filipina Women's Network, hailed the elected officials as "influencers."
"You are the culmination of over a century of immigrants. You were not given your positions of influence, you earned them.  You will not squander them and we will not squander them.  We will build upon them, individually and collectively," she said.
Herself the president of the SF Commission on Community Investment and Infrastructure, Mondejar and Perez, a member of the SF Entainment Commission and the Cow Palace  Board of Directors, initiated the first victory celebration in 2006 to "make certain our voices are heard when it comes to those issues which unite us: combating violence against women, guaranteeing economic opportunity for everyone, protecting immigration, ensuring the highest quality education for our children, fighting homelessness, guaranteeing affordable housing for all, and public safety."
Fast-forward to 2019, where the scenario has expanded to the arrival of adults born in and after 1982.
"We now have 40 elected officials, 35 Fil-Ams appointed to various Boards and Commissions in our state, and staffers to elected officials who are in a position to advocate for our community," counted Perez.  "But since Filipinos are now the largest Asian minority in California, I feel that we're still very much under-represented; so we need to keep working to have our community's issues and values reflected in the halls of power. For now, let's take some time to bask in our victories, and use the goodwill, camaraderie and good vibes from this historic event to inspire, motivate and propel us forward."
Hence their renewed commitment to continuing the tradition of bringing together elected and appointed officials and their staff of Filipino heritage.
"We are Filipinos but we are also Americans. We must work with our fellow Americans because we are ONE," stressed Mondejar.
Unmentioned but obviously on everyone's minds was 2020 and the race to the White House as implied in Mondejar's remarks.
"We have it within us to do more and to do nationally what we have done locally, and that is my challenge to each and every one of you this evening.  There is no shortage of capable Filipinos, but leadership requires support, knowledge, community and opportunity. How do you challenge each one to take action? If we think big, we will achieve greatness for our people and our country," she said.
The sentiment reverberated throughout the prime space where upcoming political players barely out of college shook hands with pioneers from the different shores of San Francisco Bay and beyond.
"We should build upon these successes, because if we become complacent we can easily go backwards. We need to support each other and mentor, coach and lift the younger Fil-Am generation so they can be catapulted to greater heights!" Vallejo Council Member and event co-sponsor Rozzana Verder- Aliga, whose husband Nestor Aliga serves on the US Veterans Affairs Advisory Committee on Minority Veterans, told INQUIRER.net.
Her fellow Vallejo leader Dr. Tony Ubalde, Vallejo City Unified School Board Trustee and his wife Carol, New Haven Unified School District Trustee Linda Canlas and State Bar of California Trustee Sonia Delen co-sponsored the event with California State Treasurer Fiona Ma, caterer Liza Gino, Andreliz Bautista and Joyce Salvador.
Philippine Deputy Consul General Raquel Solano called the event "a proud moment for Filipinos and Fil-Ams, as it highlighted emerging Fil-Am leaders in government, including Millennials, their accomplishments, and the positive impact they could bring to their respective communities."
She lauded organizers for creating "opportunity to engage with one another and exchange views on the importance of active participation by the Fil-Am community in seeking political representation."
Full disclosure:  Cherie M. Querol Moreno is a three-term Commissioner on the San Mateo County Commission on Aging.