Surprised Fil-Am poster pranksters get $50K from Ellen, courtesy of McDonald's
The Filipino American students from the University of Houston who went viral after posting a fake poster of themselves at a local McDonald's, for the cause of diversity, got a big surprise from "Ellen" TV host Ellen De Generes and the fast food giant: checks for $25,000 each.
Jevh Maravilla and Christian Toledo in July had put up a fake marketing poster of themselves in the fast-food restaurant "because there were posters of other races there but no Asians." No one noticed until they uploaded the prank on the internet, and it became viral.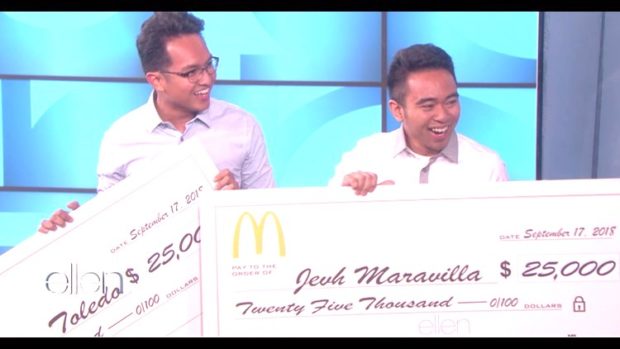 Ellen got Maravilla and Toledo on her show and handed over $25,000 each, courtesy of McDonalds, so they could be in chain's upcoming marketing campaign highlighting diversity. The buddies were speechless. She also gave them a painting of herself to sneak into McDonald's in the future.
On July 13 the two snuck the poster into the restaurant and tacked it up when no one was looking. A good sport, McDonald's applauded the for creativity, but recently took the poster because the branch was being remodeled.McDonald's announced that the poster will be donated to the Ronald McDonald House for a fundraiser.
RELATED STORY
Fil-Am students go viral after sneaking a fake poster at a McDonald's
Subscribe to our newsletters! Get updates right into your inbox