Duterte's SONA sells out PH sovereignty
Nothing but a play on words and motherhood statements – this is how President Rodrigo Duterte's third state of the nation address is viewed by the frustrated members of the National Youth Movement for West Philippine Sea (NYMWPS), a global group advocating the preservation of the West Philippine Sea.
The Duterte administration continues to maintain a lackadaisical stance in dealing with the territorial issues and the reported militarization of parts of the West Philippine Sea, which the UN Tribunal has decided in favor of the Philippines.
In his speech on July 23, 2018, Duterte said that his government would "continue to reach out to all nations regardless of their prevailing political persuasions or proximity to or distance from our shores so long as these nations wish (the Philippines) well."  He also highlighted the "improved" relationship with China, and his administration's "unwavering" commitment to defend the Philippines' interests in the disputed territory. NYMWPS sees through the inconsistencies and lack of political will of the Duterte administration to uphold what the UN Tribunal has already decided upon.
The evidently "soft" foreign policies and the so-called bilateral and multilateral platforms such as the ASEAN-China and the Philippines-China Bilateral Consultation Mechanism are nothing more than one-way-street meant to favor China.  The dependence of the Duterte administration on loans promised by China influences Duterte's lack of political will, and is a path to a dangerous debt trap, which many third world nations have fallen into.
Meanwhile, Mr. Duterte's claims of positive developments like renewed access of Filipino fishermen in disputed areas of the West Philippine Sea because of his administration's open lines of communication and amicable management of differences, are nothing but a play on words. We are directly working with and in constant communication with the fishermen whose livelihood largely depends on the waters of the disputed seas, and what Mr. Duterte wants the world to believe is not the reality.
It is ironic that Mr. Duterte spoke of his concern for human lives, highlighting that "human rights mean giving the Filipinos at the society's fringes a decent and dignified future," yet his policies disregard fishermen who sadly belong to this sector of society.
When Mr. Duterte turned a blind eye to the territorial disrespect of China and the massive dredging and reclamation of the reefs which destroyed the natural habitat of marine life in the area, he denied the future generation of Filipinos a decent and dignified future.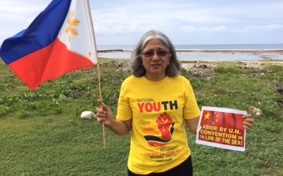 Saipan-based Dr. Celia B. Lamkin is Global Chairperson and Founder of the National Youth Movement for West Philippine Sea (NYMWPS).