Curtain Bangs: How to Get Them and Style Them
"Should we get curtain bangs?" is a dilemma we've all encountered at least once. However, a '70s hair trend has returned to our life. We're thinking about bangs once more due to TikTok and Instagram. 
We've seen it on everyone, from our favorite TV characters to our favorite celebrities, including Jennifer Lopez, Dakota Johnson, and Hilary Duff. Bangs from curtains are commonplace. It's pretty difficult to resist being attracted by this viral beauty trend when the hashtag alone has around 170 million views on TikTok and over 53,000 posts on Instagram.
However, let's first define curtain bangs. How should they be styled? Can anyone execute them? This article will cover all you need to know about the trendy curtain bangs.
What are Curtain Bangs?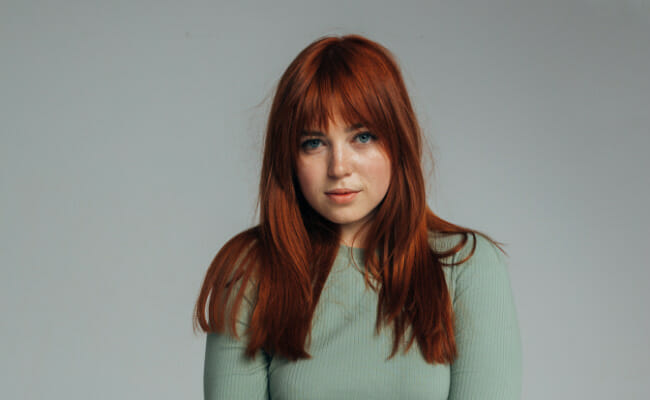 Curtain bangs are a style where your bangs split in the middle. Like curtains on a window, they frame your face and eyes nicely. They were first made famous in the 1960s and 1970s by actresses like Brigitte Bardot, Goldie Hawn, and Farrah Fawcett. 
Because you may be flirtatious and coquettish with them, they are seductive. Although you may conceal yourself behind your hair, others can still see your eyes. Moreover, curtain bangs are a softer version of conventional straight-across fringe. 
However, this hairstyle can come in various lengths, often longer on the sides and shorter in the center. You can think between the middle and bottom of the eyebrow. It has wispy tips that blend in with the rest of your hair. If you're getting the cut for the first time, you might want to wait longer. 
In this manner, you'll also have the choice to tuck your hair behind your ears or draw them back into a ponytail. Furthermore, curtain bangs are a great middle ground. You can have bangs some days and no on the other days because the cut blends into the rest of your hair, which is exceptionally appealing. 
You may experiment with a manageable fringe before committing to one that is shorter, or you can change up your look without going as far as, for example, adding micro bangs. Additionally, you won't need to bother about dashing out to the salon for routine cuts every few weeks.
4 Advantages of Getting Curtain Bangs
Are you on the fence about getting curtain bangs? If so, you're not alone. Many women are unsure whether or not this style is right for them. However, there are several advantages to getting curtain bangs that may make you decide to take the plunge. Keep reading to learn more!
This hairstyle suits any face shape.
It accommodates any facial shape and gives character to your appearance immediately. You can update your appearance instantly with long, sweeping, or textured bangs without having to commit to a cut or add layers thoroughly. 
It's a fun, carefree approach to switching up your look. The optimum hair length for curtain bangs is long hair. Georgia Fowler and a good number of the other Victoria's Secret team frequently wear this style.
Curtain bangs may highlight your best features.
Longer, sweeping bangs can help form a face more like a diamond or shrink a broad face. More pronounced cheekbones can be shaped and created with shorter bangs that pinch in at the temples. Although a round face would likely be more difficult to 'frame' with bangs, I believe curtain bangs do suit many face types because bangs might draw attention to roundness.
They require little upkeep.
Curtain bangs have a maintenance level rating of as low as 1 out of 10. Often, the already-textured cut and form are more straightforward to grow out of than a short, blunt fringe, which depends on length and accuracy to maintain its appearance.
You may get away with letting curtain-style bangs longer between cuts because of their carefree appearance. To keep them in shape, it would be ideal if you continued to trim them every 5 to 6 weeks. No matter how long, bangs should always look flawless since they are on your face. 
If you and your stylist have an excellent working connection, they may schedule your complimentary 15-minute fringe trim. An essential tip for trimming your fringe: always go back to the hairdresser who gave you the nicest bangs. Don't just go to anybody since a superb cut's style can be hard to duplicate.
Curtain bangs are lazy girl-approved.
To save time, you can skip the conditioner after this freshens them up. Blast your bangs dry with a brush utilizing the wrap-dry method, which involves continuously brushing the fringe from side to side as it dries to "confuse" the hairline. You always get the ideal, bouncy bangs since the hair falls forward.
How to Get Curtain Bangs at Home?
If you're hesitant to wear short bangs, curtain bangs are a terrific opportunity to experiment. Because they complement all face types and are pretty simple to manage, these long, wispy bangs are fashionable. 
Curtain bangs are longer than other bang styles and frame the face. Even better, cutting them on your own is not too difficult. Just a few tools and a little bit of confidence will do. You'll quickly grow to love your new bangs!
1. Grab a flat comb and a pair of hair-trimming shears.
No matter how sharp they are, your kitchen scissors are not the right tool for the job. You ought to use hair shears for the same reason that hairdressers do. Your cut will appear sharper, cleaner, and more expert if you use shears. 
Before cutting, borrow shears from a friend or get your own set. Shears for trimming hair are available online or at a nearby salon supply store. You should purchase a flat, the fine-toothed comb if you don't already have one.
2. Look for a photo of the bangs you desire.
It will be easier if you can see reaching your objective. As you cut and style your bangs, a picture might serve as inspiration. It can also act as a reminder not to hastily chop off all of your bangs. Find a photo of your desired bangs by flipping through a magazine or searching online. 
Don't be reluctant to collect a few photographs for inspiration and direction.
3. Before cutting, detangle and dry your hair.
Cutting curtain bangs is more straightforward when the hair is dry. Although you often cut hair when wet, this dry cut will enable you to get the desired length and more exact angles. Give your hair a brisk blow-dry until it is dry, if it is moist or wet. 
If your hair is moist, you won't be able to see your natural hair growth pattern or cowlicks. It will fall more naturally when it is dried.
4. Section off your hair and create a center part.
Make a center part in your hair and find the top of your head. Draw a portion straight down the middle of your head with a flat, fine-toothed comb. This step will let you evenly style your bangs. You should then find the top of your head with the same comb. 
Holding your comb on the top of your forehead to begin, move it back until it rests flat on your head. Your starting point for sectioning your bangs will be at the center of your head. Section out a triangle of hair. Use the arch of your brows and the top of your head as your cues. 
Make a strong separation on the diagonal. This part is from the top of your head to the top of your right brow. Use a tiny clip to hold that part of the hair before repeating the process on the opposite side.
You now possess the portion of hair that you will chop into bangs. Let the whole part fall directly in front of your face as you comb it straight down. 
5. At chin level, cut your bangs cleanly across.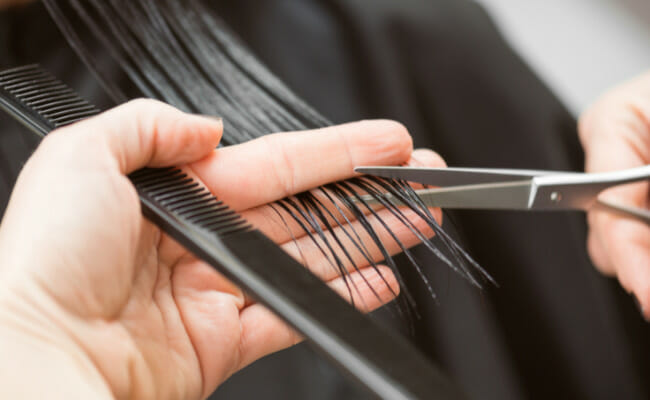 Start by chopping for longer than you intend. Comb your hair up to your chin with the comb. Put your first two fingers directly beneath the comb once you reach the chin. You'll start your cutting here. 
Start by cutting through the portion in a straight line. At chin level, hold the scissors and trim your bangs just under your fingertips. Please don't cut it any shorter at this time. If you want to, you can always trim more afterward. 
Going shorter than you intended is one of the most frequent errors people make while cutting their bangs. Make your first cuts longer than you intended to prevent this. You can always shorten them, but you won't be able to grow any of your hair that you regret trimming.
6. Cut the sides of your bangs at an angle after dividing them in half.
Once more, follow the arch of your brows. You should hold one piece of your bangs between two fingers slightly above the ends. Hold your fingers at a modest downward angle parallel to the angle of your brows. Cut slightly below your fingers with the shears. On the other side, repeat the process but cut at a different angle. Enjoy your new appearance by sweeping your curtain bangs to the side of your face.
Your bangs should be slightly angled downward, matching the softly sloping slope that runs from the top of the arch of your brow to the end of your brow. Move a little bit further away from the mirror before making these incisions. The overall appearance of your bangs will then be apparent. It's easy to overcut if you're too close to the mirror.
7. Feather your bangs by cutting them vertically. 
Your bangs will seem more natural and integrate better after this last stage. Straightening out your bangs will make them dangle in front of your face. Make a series of tiny snips over the bottom of your bangs while holding your shears vertically.
You should make approximately 4-6 random cuts as you proceed across your fringe. This technique will make it easier for your bangs to match the rest of your hair. The length that you should remove from these snips should be pretty small.
How To Style Curtain Bangs
Starting with a center part, gather a one-inch portion of hair around the temples and wrap it around a one-inch round brush, holding the brush parallel to your hairline. It would be best if you did not dry the bangs horizontally, as this might make them look puffy or bouncy. To assist shape it, blow dry the section of hair several times, turn off the heat, and then hold it in the brush for a short time.
Work your way towards the center by repeating this procedure. Then, begin again on the opposite side. After the style is complete, you may use a disposable mascara wand to run hairspray over your bangs to help hold them in place.
Do you prefer to be natural? It's even easier to air-dry your bangs: arrange them in the direction you want them to face and use a few crease-free clips to hold each side in place while they dry.
Will Curtain Bangs Suit You?
The most excellent part about curtain bangs is that they go well with almost everyone, regardless of whether they have straight, wavy, or curly hair. If the style complements your most remarkable features, anyone may wear bangs. Some people might appear better with them totally over the eye.
While others would look better with them at a cheekbone-grazing length, finding a stylist who genuinely listens to you is crucial. To get the proper measurement and depth of your bangs, if you have curly or wavy hair, let your stylist know whether you want to wear it straight or curlier.
Conclusion 
Look no farther than curtain bangs if you're searching for a new look to try this season. Celebrities and everyday women alike have embraced this trend, and it's easy to see why. You can add serious glamour to your look with a few scissors' snips. So what are you waiting for? Try curtain bangs today!