How to Shrink Your Jeans to Fit Perfectly
Have you ever struggled to find jeans that fit perfectly, or your favorite skinny jeans just aren't fitting the way they used to? Most people have, and it can be really frustrating. But there is hope! You can shrink any pair of jeans to fit better. It's easy, and it doesn't take much time. Check out our list of ways that will help your jeans fit perfectly.
Jean shrinking techniques that will get your jeans to be fit-perfect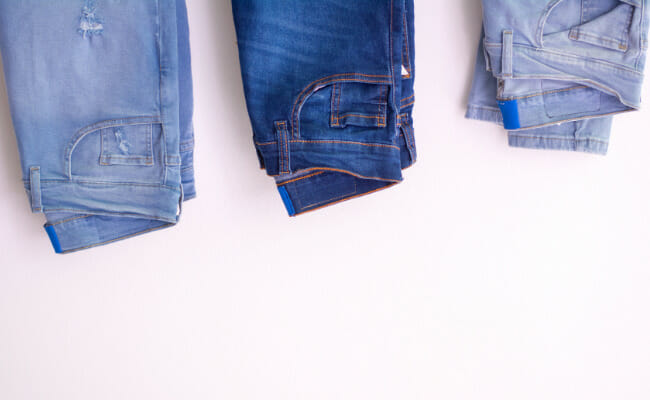 Option 1:  Wash and dry on the hot setting
The hot cycles technique is one great method to shrink jeans. Put your pair of jeans in the hottest setting of your washer and dryer on a standard washing cycle. This will cause them to shrink by a pant size or two. However, this is only a short-term solution. 
Option 2:  The boiling solution.
The boiling method can shrink denim faster since heat shrinks cotton. Note that "shrinking is not a precise procedure or measurement." Less time will result in less shrinkage. 
Depending on how long you want it smaller, put the pants in a large pot with boiling water for 20 to 30 minutes. Afterward, dry the pants in a dryer set at the highest heat setting for the best shrinkage.
Option 3:  Let iron does its shrinking magic
Ironing works best for  "spot shrinking" in the knee, bum, and waistband areas. Check which area needs shrinking in your jeans. Use a spray bottle to dampen it. Then, put the iron on the cotton setting—iron area until completely dry. The high heat is helpful to shrink jeans. . On the other hand, using liquid fabric softener prevents shrinking denim. 
Option 4: Wear them in a hot bath and dry them in the sun
Did you know that the body's natural oils and heat assist create a personalized fit? A lot of Japanese people swear by this no-wash method. With this method, no need for machine washing.
Wear raw denim and soak in a tub of hot water. The jeans shrink and look like a new pair.
You can sit on a plastic or metal chair while soaking up the sun and air drying. 
Option 5:  Hemming all the way
Want to shorten lengthy pants? An easy fix is by hemming the pant legs. 
Option 6: Use replacement buttons for a snug fit
How to shrink the waistband of your favorite jeans? Use replacement buttons. Sew the button into a specific area in the waistband and get a snug fit.
Option 7: See a professional tailor to make the right changes
Let's say that matter how hard you try to downsize or shrink your jeans, it doesn't look right. If the DIY process isn't working, The tailor knows how to shrink jeans and can fix your favorite pair quickly. No need to air dry denim. After all, a tailor is your jean's best buddy. 
Conclusion 
If you're like most people, you have a pair or two of jeans that are just a little too large. They sag in the wrong places and look unflattering on you. You don't need to go out and buy another pair of pants – all you need is a washing machine or iron and some time.
You've learned how to shrink jeans to better fit your body type in just a few simple steps. So why not give it a try? Who knows, maybe you'll get a pair of jeans that fit you perfectly.