How to Get Started with Direct to Film (DTF)
You've likely come across a very cool-looking t-shirt with amazing designs. Chances are you even own one or two such shirts yourself. Nice sharp pictures or logos enhance the beauty of your top and make you stand out almost immediately.
How do these crisp designs get on shirts? Digital Printing Technology. It's a large field, and there are different technologies around it, but the most popular is Direct to Film Transfers.
If you're looking to get into the DTF transfer business, let's delve right into seeing how the processes work and how you can get started.
Direct to Film Transfers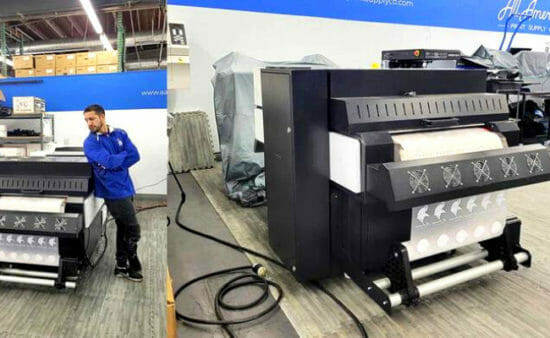 DTF stands for Direct to Film. It is a technique that prints a design onto a film, which is then transferred to the shirt or cloth. Essentially, a design is created on a computer and a printer prints that design onto a film. The film is treated and applied to the fabric to create colorful designs.
To start DTF printing, you're going to need a desktop inkjet printer. This DTF printer will use specially designed textile inks, which are made for DTF printing.
There are valid file formats for printing designs while working with DTF, which you will need to use and recognize. These include EPS, PS, PDF, BMP, TIF, JPG, PNG, and PSD.
What do I need for DTF transfers?
You will need some important equipment for your business to get started with DTF printing. You can check out this starter kit to get your business going. Also, the desktop inkjet printer is certainly one of the important pieces of equipment, but it isn't the only one. You'll need a particular type of desktop inject printer, so let's dive in.
DTF Printers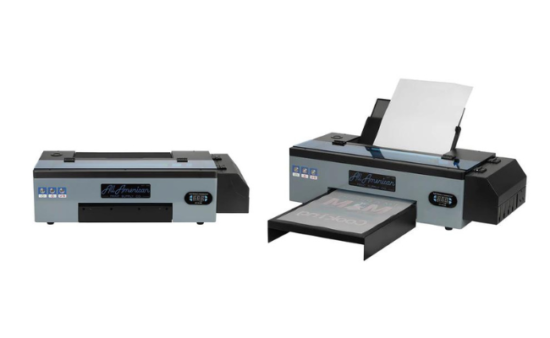 You need a DTF printer that is modified specifically for DTF printing. It will need to have six ink channels CMYK+White to deliver direct film transfers. It also needs to have the required hardware modifications. These include special textile inks, as mentioned earlier. These inks are very elastic, which holds the print from cracking after printing. It's also easy to make your DTF printer work.
The print speed is great, and you can purchase a specially-modified DTF printer here.
DTF film
This is the surface on which you will print your design. There are many types of films available, but you will need the DTF film only.
You can purchase the required film here.
DTF Powder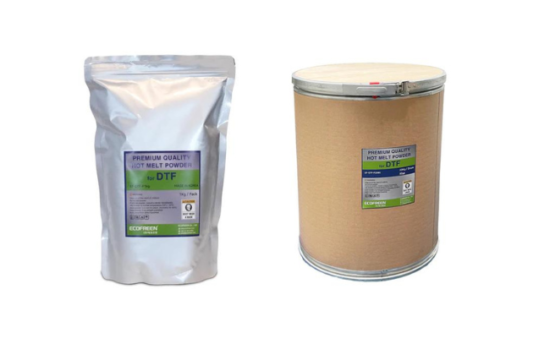 This specialized powder adhesive coating is what helps to link the ink to the cloth. It essentially acts as the glue or adhesive between the textile inks and the fibers of the t-shirt.
You can purchase the unique powder adhesive coating here.
Oven
You'll need to melt the powder with an oven, which you can get alongside a printer for a combo deal here.
Print optimizer RIP software
This software is required on your computer because it is needed to print CMYK and white correctly. It is a print optimizer software. Remember that your printer has been modified to carry textile inks and print DTF. It cannot print the correct order of colors without the RIP software.
Heat press
The heat press is needed to transfer the design from the print to the fabric, ensuring a crisp design edge. Without this, you cannot finish the final transfer process of DTF printing. You don't need skilled heat press assemblers to handle a startup business in its infancy, so you can handle it independently.
Air Filter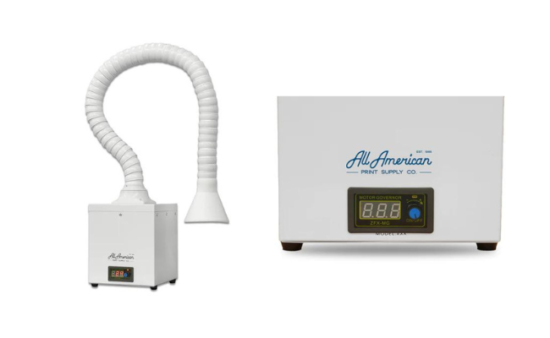 DTF printing may produce excessive amounts of toxins and dust in the air. Portable air filters will come in handy to eliminate gases and dust while preventing environmental pollution. This portable air filter has strong ventilation and a 99.97 purification rate.
Variations of Quality Prints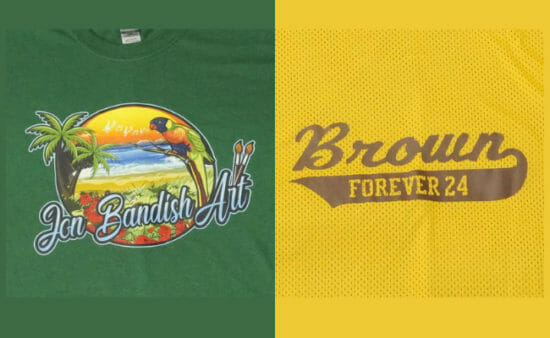 Direct to Film transfer isn't the only way to get designs printed. There are other methods, some of which use brilliant digital transfer sheets to make print transfers. So let's look at the differences and why custom DTF transfer prints are your best route to start a printing business.
DTF printing vs. Direct to Garment Printing (DTG printer)
Direct to film is cheaper and more accessible than DTG print. For DTF, all you need is a heat press and a conventional printer that has been modified. DTG requires a very expensive printer that is also quite bulky.
DTF also uses less ink (60% color and 40% white). DTG uses a lot of ink, around four times as much white ink. White ink is the most expensive, which adds to the running costs of DTG. It also means higher maintenance costs due to a clogged-up white ink print head, which requires separate white ink channels. You need to use the DTG machine constantly to reduce how often the print head gets clogged.
You only apply powder to the film in Direct to Film transfer, but you need to pretreat a fabric in DTG. Aside from this, DTF is versatile. They can be printed on anything from custom apparel like sweatshirts to even a bag. However, DTF has better transfer characteristics.
DTF Printing vs. Sublimation Printing
Sublimation printing is cheaper. You can use an old printer and just refill it with sublimation inks, as long as the printer works. You can even print on regular paper and thick transfer films.
It also requires minimal maintenance, just like DTF printers, and works on a broad number of objects outside clothes. When it comes to clothes, however, sublimation printing can only print on polyester, unlike DTF, which can print on nearly any garment.
Also, you cannot sublimate on dark shirts. You have to wear lightly colored shirts.
DTF Printing vs. Screen Printing
Traditional screen printing is the best way to go on a budget if you want to mass-produce shirts. Screen printers are known for their signature soft touch and can produce better quality prints. That's why it's efficient to set up automatic screen print shops: there is incredible machine output.
However, it takes a long time to set up printing for a single design, meaning you need to print the same design on a bulk number of shirts for value. Unlike film printers, which can print numerous designs with a click of a mouse, it does not need as many assembly stations.
It is also hard to get into screen printing, as it requires a lot of learning to perfect. Aside from this, it involves painting, washing, spraying, and a good amount of chemicals. You also have to start measuring and mixing inks. The DTF printer just needs ink, PET film, and powder. Halftone screen printing allows you to print greyscale images.
DTF printing vs. White toner printing
Unlike film printers, white toner prints use lasers to do the print work, meaning you don't have to deal with ink, print head clogs, spills, or cleaning. There's no need to worry about ink flow or ink waste. It also can print on virtually all material types like bottles and mugs.
However, it prints poorly on t-shirts. Unlike DTF printers, which print high-quality transfers, the white toner does not offer good quality in this regard. You will also end up with shirts that have low washability, which means added treatment to the shirts.
How to Use a DTF Printer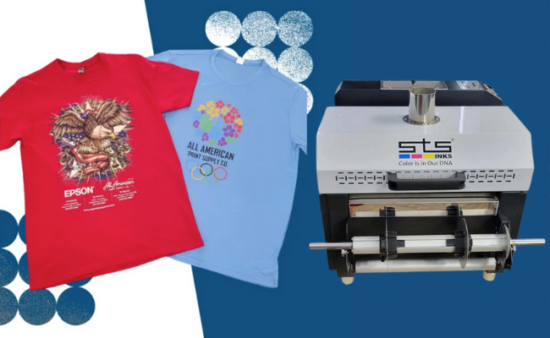 If your design is ready on the computer, it is time to print using the desktop inkjet printer.
Step 1
Put the PET transfer film in the printing tray of the printer, then click on the print function on your computer. The DTF transfer printers will directly print your design to the PET film. When it is done, remove the film carefully, so you don't smudge the ink.
Step 2
Spread the DTF powder adhesive over the film. Applying the powder to the film while the print is still wet is important, so don't waste any time. The powder needs to be spread evenly and properly. You can do this by sprinkling the powder onto the print and then bending the print back and forth, so the powder gets everywhere. Carefully remove the excess powder. Using an automated shaker to even the powder properly is also possible.
Step 3
Melt the powder on the film. A standard way of doing this is keeping the DTF print in an oven for around two minutes. You can also use the press to melt the powder, but you must not let the press come in contact with the powder. Hovering the press above the powdered film can keep it from getting in contact.
You can choose to sell the DTF prints this way because they can be stored easily. You don't have to use it on a cloth immediately. Your business can focus on printing the designs direct to film, and then you can sell and deliver direct print transfers to the businesses that need them.
Custom DTF Transfer Prints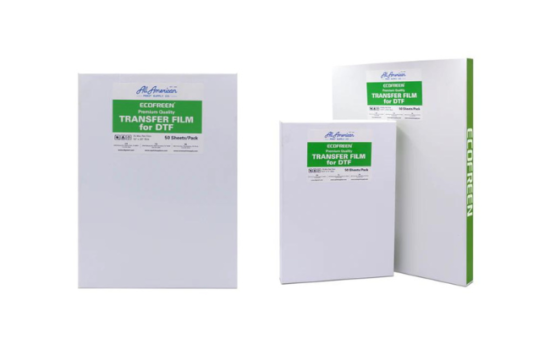 If you want to go the full length and press the prints on shirts yourself, continue these steps:
Step 1
Press the shirt or cloth before you use it. It doesn't have to be a shirt, as you can use almost any fabric. However, ensure that you press it properly so wrinkles don't appear in the print. Pressing also dries the fabric properly so that air moisture doesn't distort the quality of the print.
Step 2
Apply the DTF transfer printing to the shirt or fabric. Place the film on the pre-pressed fabric that has no wrinkles. Heat press the transfer onto the shirt or fabric, following the instructions of the heat press manufacturer. The whole DTF process of pressing should take about thirty seconds or less.
Step 3
You will need to remove the film from the fabric only after both have cooled down properly. As they cool down, the powder ensures that the colors are bound to the fibers of the fabric. Once the film is cool, you can peel it off, and you'll have the design on the shirt.
DTF transfers: Pros and Cons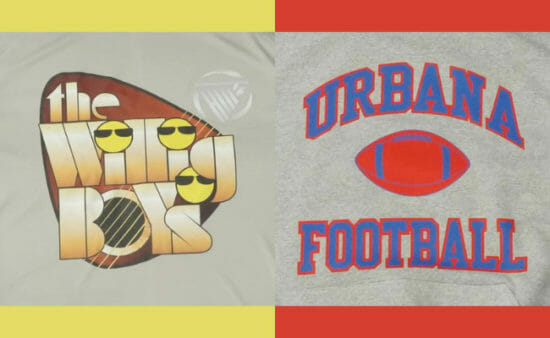 Let's look at the potential pros and cons of starting a DTF business.
Pros
They are cheap and don't require a massive investment.
You can print any color on any shirt of your choice, irrespective of the fabric.
You can also print on virtually any garment, like t-shirts, polos, sweatshirts, sweatpants, sports uniforms, and even aprons and backpacks.
The printing results are durable and long-lasting. It won't fade away after a few wash cycles.
The white ink layer prints simultaneously with the colored ink layer.
Cons
The print might look plastic-like.
Printing can be more complex than other printing technologies.
Conclusion
DTG remains the most popular method of print. Still, it is rather expensive to start. DTF, however, is a much cheaper alternative that produces impressive results while keeping maintenance costs low.
With direct film transfers, you can print brilliant full-color prints on cotton and black garments, and they will have good washability. It will also be possible to print many designs quickly and efficiently to keep your business going. Thanks to the affordable startup cost, DTF printing technology is arguably the best way to start your print operations with virtually any placement on garments.
Subscribe to our newsletters! Get updates right into your inbox